RESOURCES
Links to external websites do not constitute endorsement by WSDOT of the linked websites or the opinions, information, products or services contained therein.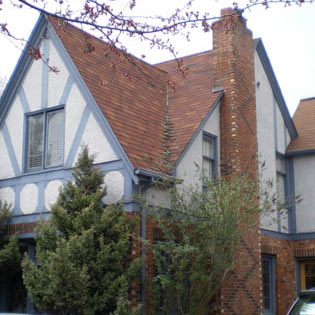 Seattle's Portage Bay, Roanoke Park, and North Capitol Hill neighborhoods are located at the far northern end of the north-south ridge that forms Seattle's Capitol, Renton, First, and Beacon hills. These neighborhoods, largely developed in the very early twentieth century, and are densely situated, making it virtually impossible to know from visual clues where one neighborhood ends and others begin.
Roanoke Park emerged as an early streetcar suburb of Seattle, attractive for its public spaces and transportation links to downtown. Roanoke's successful development is also likely due to the fact that the neighborhood overlooked the 1909 Alaska-Yukon-Pacific Exposition where Seattle proclaimed its achievements and demonstrated its potential to the world.
In the Portage Bay, Roanoke Park, and North Capitol Hill communities, the early to mid-twentieth century saw the construction of many homes built for Seattle's influential elite, who were attracted by the transportation options, parks, and proximity to downtown Seattle. Often designed by notable local architects, the homes reflected a diverse collection of early twentieth century architecture. Relatively isolated on the far side of Capitol Hill, the Portage Bay neighborhood developed later than the adjacent, higher elevation areas. In 1912, only about 15 homes had been built in the Portage Bay neighborhood, accounting for approximately 8 percent of the available lots. In comparison, lots in neighboring areas were already approximately 75 percent occupied. The Portage Bay neighborhood's undeveloped character, however, quickly changed as infrastructure improvements increased the appeal of the area.
Visit HistoryLink.org to learn more about the North Capitol Hill, Roanoke Park, & Portage Bay communities.