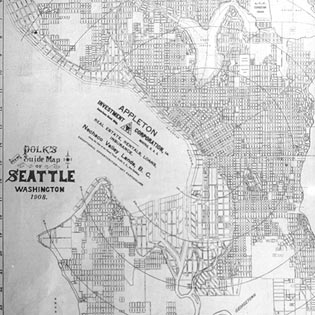 T he period between 1851 and 1915 is marked by tremendous change, challenges, growth, and prosperity. In the fall of 1851, a group of Midwestern settlers, led by Arthur Denny, arrived at what is now Alki Beach in West Seattle. Soon after, the Denny Party moved their settlement to the shore of Elliott Bay – much preferring this location to the windswept beach at Alki Point -- and renamed the community after the local Native American leader, Chief Seattle, or si?al in Lushootseed.
Despite Denny's friendship with and respect for Chief Seattle, as well as his people's reliance on Native American's canoes for local transportation and labor for early industry, peaceful coexistence with the Native peoples of Puget Sound was short lived. Only a few short years after the first Euroamerican settlement in the Puget Sound area, Native Americans witnessed areas important to their traditional lifeways occupied and altered by the new settlers.
In 1865, Seattle passed an ordinance restricting Indian encampments to only the most outlying areas of the town, often next to muddy tideflats.  At the same time, Seattle gradually became known as a land of opportunity because of its ample timber and coal supplies and natural deep water port that brought new settlers to the area. By 1890, Seattle had grown to become the second largest city on the west coast.
Only a few short years later, Seattle became the center of many hopeful people's imaginations during the Klondike Gold Rush of 1897. Then, in 1909, the Alaska-Yukon-Pacific Exposition showcased Seattle, celebrated its achievements, and demonstrated its economic potential to the world. By 1910, only 60 years after its founding, Seattle had grown to a population of over 230,000 people. As the city grew, it relied on natural resources to fuel the local economy. Many of those resources were located inland from the port at Elliott Bay, and settlers had to move these resources despite the challenging topography of tall hills, forested hillsides, and a shifting and shallow river. As Seattle evolved, neighborhoods were built and communities developed reflecting the area's diverse population and progress.