AUDIO
MP3 Download: Listen to Dr. Lorraine McConaghy, the Public Historian at the Museum of History and Industry (MOHAI), talk about the Eastside Communities' opinionof Lake Washington. MP3
RESOURCES
Links to external websites do not constitute endorsement by WSDOT of the linked websites or the opinions, information, products or services contained therein.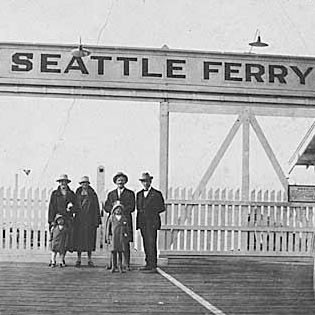 In the early 20th century, the Eastside communities were rural enclaves or small, exclusive Seattle bedroom communities. In Medina, the generally wealthy, well-connected residents enjoyed their lakeside properties - many of which found added lakeshore acreage when the Lake Washington Ship Canal opened in 1916, and the water level dropped about nine feet. By the 1930s, it was clear that the enclave called Medina was going to be a special, and exclusive, community, with virtually no businesses, few public areas, and well-tended private properties.
Nearby, throughout the first half of the twentieth century, Bellevue maintained its rural lifestyle. Their annual Strawberry Festival was always a big success, both for selling produce and for luring new residents who wanted to live in a country environment, yet still be able to commute to their Seattle jobs.
With the opening of the Lacey V. Murrow Bridge, and later with the opening of the Evergreen Point Bridge, the communities of Bellevue, Medina, Hunts Point, Yarrow Point, and Clyde Hill grew substantially in population, having found themselves ideally situated within the new transportation network.
Visit HistoryLink.org to learn more about the Eastside communities of Bellevue, Medinaand Yarrow Point.