RESOURCES
Links to external websites do not constitute endorsement by WSDOT of the linked websites or the opinions, information, products or services contained therein.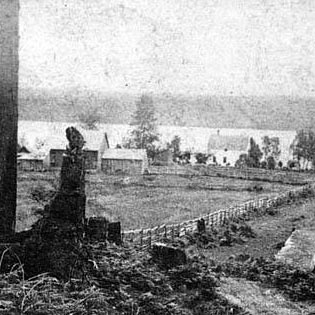 The Madison Park neighborhood of Seattle is situated on the western shore of Lake Washington. The Duwamish peoples who originally inhabited it called it "Where One Chops." The Duwamish shared the forested banks, swamps, and inlets with bear, deer, otter, and mink. After Seattle was founded in the 1850s, Madison Park became a favorite picnic and recreational area. Judge John J. McGilvra (1827-1903), the area's first developer, purchased land and opened Madison Street at his own expense in 1864-1865.
In the 1864, Judge John J. McGilvra acquired 420 acres of land on the western shore of Lake Washington, including Foster Island. A New Yorker who had practiced law with Abraham Lincoln in Chicago, he was appointed as the U.S. Attorney for the Washington Territory when Lincoln became president. McGilvra and his wife, Elizabeth, built their home, known as Laurelshade, on the mainland to the southeast of Foster Island, in an area now known as Madison Park, and cut a trail from downtown Seattle through the wilderness to their front steps. In a short time, McGilvra's dock became a busy landing as residents around Lake Washington traveled to Seattle for business by rowing or sailing across the lake and then continuing along his established trail into town.
The McGilvras were the only residents in the area until the 1880s when they began developing their property as a lakefront resort and entertainment center. To make it easier to reach the development, McGilvra negotiated an extension of the Madison Street Cable Railway from Capitol Hill to the lakefront. In exchange, McGilvra gave the company 21 acres of lakefront property and $50,000 to develop the area into picnic grounds. McGilvra named his road from the city, as well as the waterfront park, in honor of the fourth president, James Madison.
By 1889, a new dock and ferry slip were completed at Madison Park and cable car service began along the new route.  During this period, McGilvra began leasing small plots of his land and only allowed small summer cottages or tent houses to be built on them. It was not long before other Lake Washington residents wanted better access to Madison Park. In 1900, public ferry service was established between Kirkland and Madison Park with double-ended boats spacious enough for wagons and horses.
In the mid 1900s, bypassed by Lake Washington Boulevard, Madison Park changed from a popular transportation and amusement center into a quiet, affluent residential area.  
Visit HistoryLink.org to learn more about theMadison Park neighborhood.